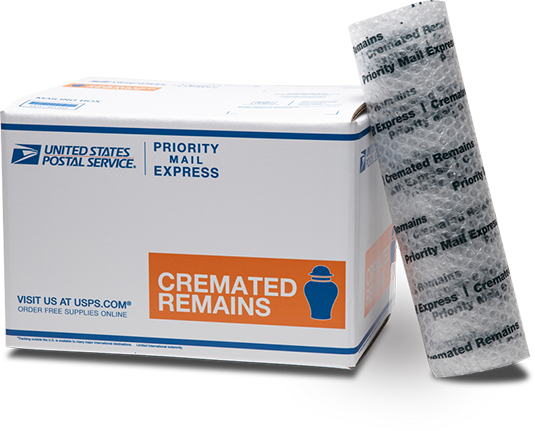 How to get us your loved ones
We service families from all over the United States through use of Express Mail by US Postal Service.  The process is simple, fast and secure.
It is our utmost priority to to ensure your loved one's remains get to us carefully and safely.
Please note UPS and FEDEX do not ship remains.
Order your FREE Cremated Remains Kit
Everything you need to securely package remains including Priority Express Box, Priority Mail Express Tape, Bubble Cushioning and Self Sealing Bag.
Ship To Us
Simply seal your box and go to your local United States Post Office. Provide us with the tracking number.
We Do The Rest
Our team will track your package and let you know immediately when we have receipt. Shortly after, we will schedule our service (weather permitting).
Packaging instructions per United States Post Office Guidelines are as follows:
Cremated remains are placed in a primary, inner, sift-proof container (any vessel that does not allow loose powder to leak or sift out), cushioning material and an outer shipping package.
The inner container must be strong, durable and constructed in such a manner as to protect and securely contain the contents inside; it must be properly sealed. The inner container is securely placed within a second, outer shipping box.
To increase the visibility of pieces of mail containing cremated remains, the outer shipping box containing the cremated remains must be marked with Label 139, "Cremated Remains" affixed to each side (including top and bottom). Label 139 is available for free at retail Post Office locations or online at this link.
Address your package clearly with complete return address and send to:Sea Burials, LLC
PO BOX 1784
Hallandale Beach, FL 33008
All remains will be scattered within 14 days of receipt (weather permitting). Expedited service and specific day request are available.